Now that you have completed the setup for split billing for your organisation, it is time to create split billing agreements for each of your employees who are entitled to reimbursement of their electricity cost for charging at home. In this how to we will guide you through the creation of these agreements and the steps to be taken by the employee to confirm the payment details and agreement.
Creating the split billing agreements (Employer)
By now, you should be logged in to the Smappee Dashboard with your fleet manager (partner) account that has the split billing activated. More information on activating split billing for your organisation, can be found here.
Now, the fleet manager can add his own split billing agreements. Each employee that wants to use split billing will need such an agreement and each agreement comes at a cost of 5 EUR / Month.
Setting up these agreements is done through the dashboard with the Split billing card by pressing the Add agreement button as shown below.

The employer has to fill in all the required information and this is also the place where he can set the reimbursement price for the employees charging costs. An example of the form is shown below. Only the email, refund rate and first name of the employee are required. All other information, including IBAN, BIC and the RFID token to use can be filled by the employer if the information is already know or ca be completed by the employee in a later step.
Once you press the Add agreement button, a mail is send to the employee to confirm and fill in the missing information.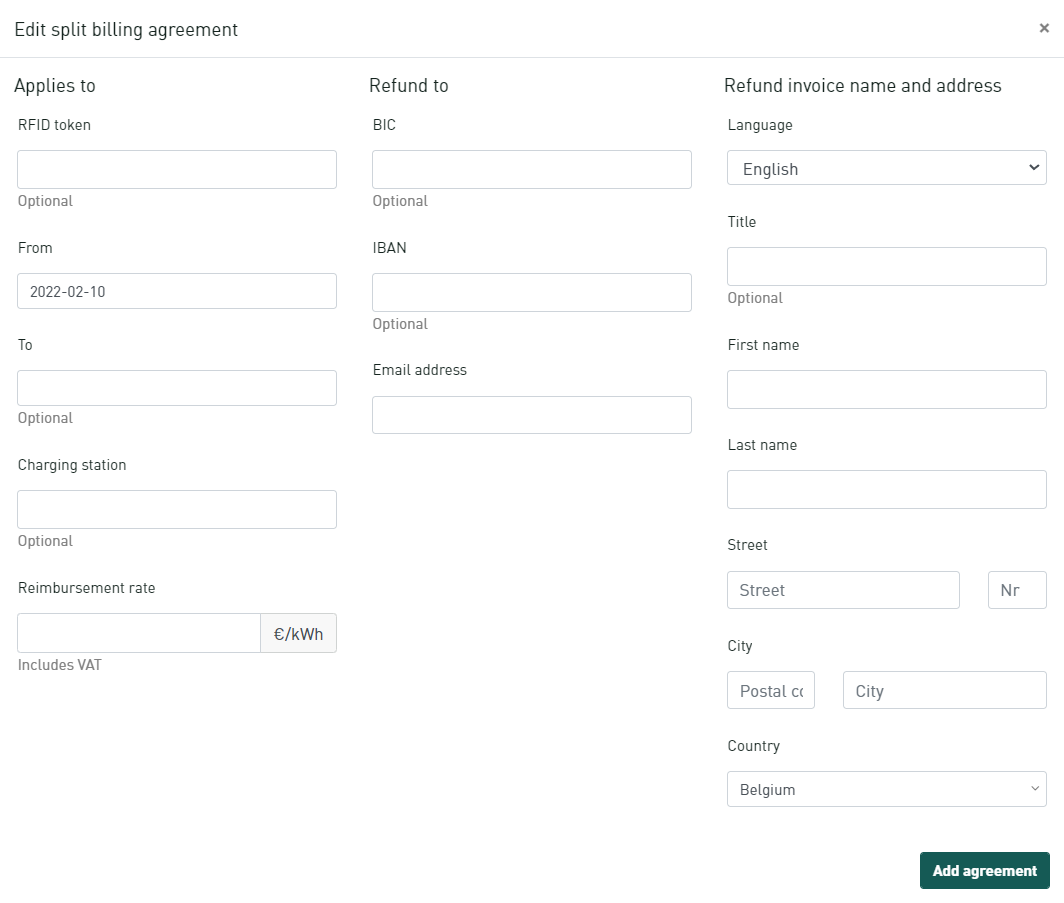 Confirming payment details (Employee)
After submitting the form, the employee will get a confirmation email to verify all his details and to sign the contract. An example of the confirmation email: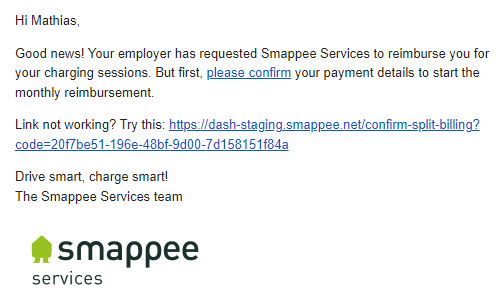 When clicking the "please confirm" link you will be redirected to a Smappee web page where you can verify the info and enter missing information. On this web page you have to login with your Smappee user account which has access to the EV Line product where split billing is needed. The account is the same as in the Smappee app.
After confirming your details you will get another email to notify you of the confirmation.
Example mail: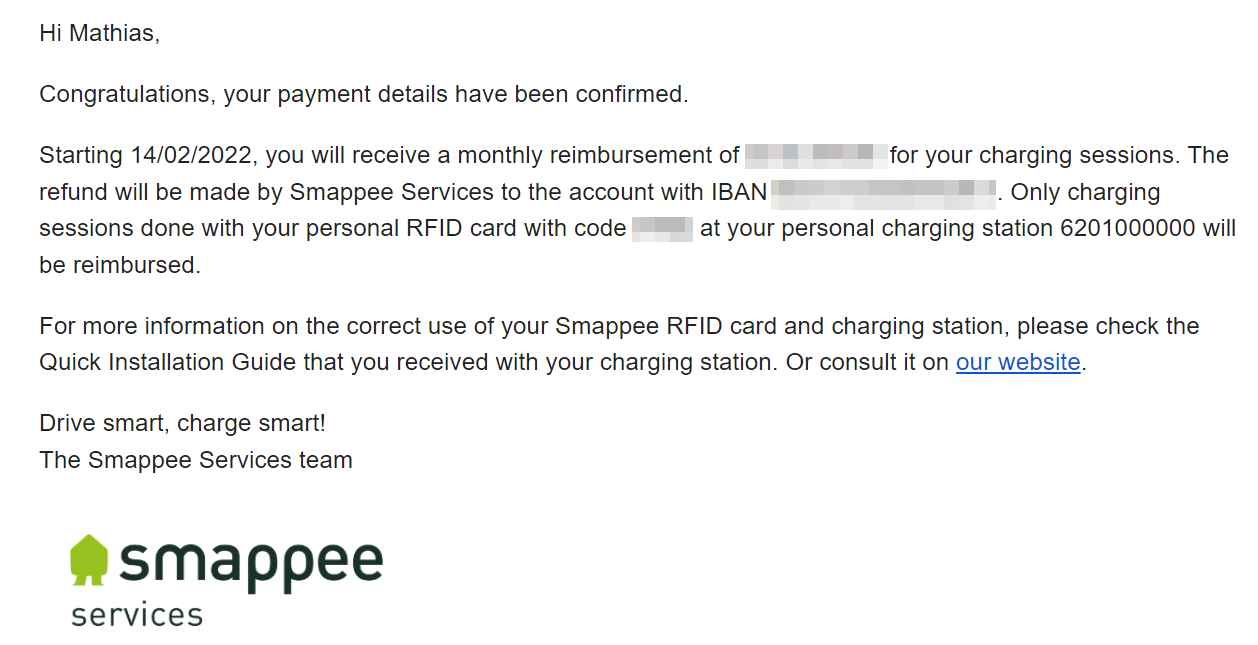 Once all above steps have been completed, the session activation method will automatically be set to 'Swipe & Charge (Split Billing)'. When the customer has plugged the cable into their EV, they will be able to swipe their RFID token and the charging will start.
Finally! Your job is done 😊 Now it's up to Smappee Services to send the employer a monthly bill and to reimburse all the employees on a monthly basis.
Important
The charging station that was selected will automatically be set to 'Swipe & Charge (Split Billing)'. Thefore Plug & Charge will not work for other members of your household.
Resend confirmation mail for pending requests
The fleet manager can also resend the confirmation emails to employees who might have missed the email or didn't get it. This is possible with a small icon on the same Split Billing card and is shown below: