When using the Smappee Dashboard it's possible to export your data to Excel or CSV. The following data can be exported:
Electricity data
Gas data
Water data
Switch data
Events
Appliances
Harmonics (if enabled)
Min/Max Current & Voltage (if enabled)
Live inputs from an Input module
Locations information
Shared users
EV Line consumption and Charging sessions
Defining the period
For some of the data you first need to define the correct period from which you want to see the data. You can do this by clicking on the following button.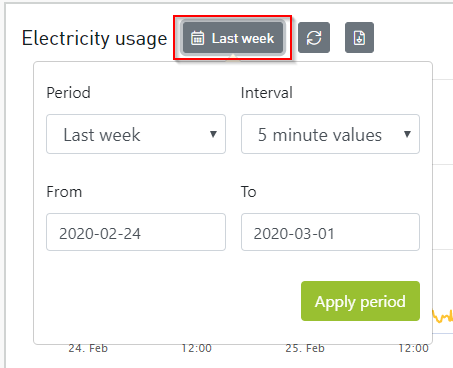 After this, apply the period and interval of your choice and the data will be loaded onto the graph or in the table.
Exporting the data
To export the data you can then press the download button and choose for Excel or CSV.

A file is now being generated on the fly and will be presented to you for downloading. Accept the download and save the file on your computer.
The file will contain all columns that are selected in the card as you see it in the dashboard.